Our Community League
Our Community League centers around our Community Hall, where we strive to bring the community together.  The Community League is a non-profit organization and has a board of Directors made up of volunteers.
The La Perle Community League Board:
President: Bill Bowers
Vice-President: Shaun Jones
Secretary/Treasurer: Tiffany Conrad
Communications Director:  Karin Ferrari
Facility Director:  Janet Doblanko
Membership Director: Dave Umrysh
Facility Manager: Cathy Johannesson

Respectful & Inclusive Environment
The Edmonton Federation of Community Leagues is dedicated to being respectful, inclusive and supportive of the LGBTQ+ Community. For more information about EFCL policy, visit their website https://efcl.org/events–projects/lgbtq-project/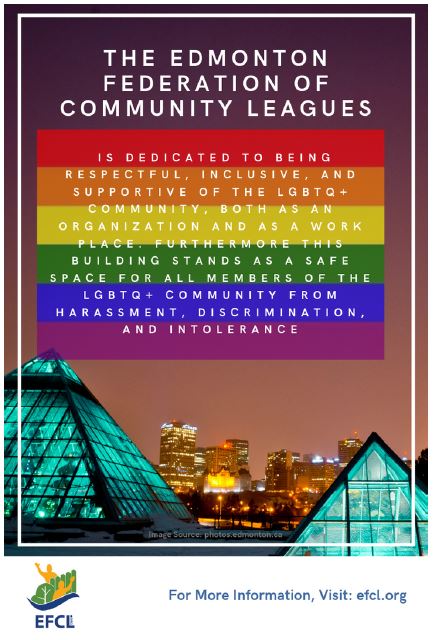 La Perle Neighborhood
"La Perle is located in Edmonton's west end, south of 100th Avenue and west of 178th Street. The neighbourhood's western boundary is formed by the transportation/utility corridor and the Anthony Henday ring road.
The neighbourhood developed primarily in the 1980s and 1990s. Development started in the southeast corner of the neighbourhood with the construction of row housing and low-rise apartments. Almost all of the single-family houses were built in the 1980s. As a fully developed neighbourhood, La Perle provides an even mixture of single-family and multi-unit residences.
The neighbourhood features the central La Perle Elementary school and a two-hectare park site. The La Perle Shopping Centre is located at the centre of the neighbourhood. For all major commercial services, West Edmonton Mall is located in the nearby neighbourhood of Summerlea, and a range of commercial services are located along the nearby 170th Street.
La Perle is named after Eleodore Joseph (Leo) LaPerle, who was born in Ontario on April 9, 1895. His father moved with his family to Edmonton in 1906 and opened a general store at the Winterburn Corner. Leo LaPerle took over his father's store in 1929, which operated until 1969 when it was torn down."